News
First Time ULTRA SPECIALS for May-June 2022

1. 40% OFF HeartSine Samaritan PAD 500P Defibrillator (AED) and Cabinet - only $1,976 including PAD-PACK + CABINET!
Our long-time association with Aero HealthCare is making this exclusive LOW price possible during May and June 2022. You've probably seen HeartSine automated external defibrillators (AEDs) popping up in places such as Woolworths and on ABCTV News held by Wiggles Greg reporting his experience. You don't need to be trained due to its ease of use and patented CPR automated Advisor technology. Simply press the GREEN ON button and it calmly speaks so any rescuer can follow (with in-bulit multi language support). If progressing to CPR, it speaks if you need to press harder and/or faster if CPR is required. It provides unique real-time audible feedback to the rescuer for every step thus maximising the chances of survival. 
Click here to see a short video of how the HeartSine 500P works.
Our ULTRA SPECIAL deal includes:
- HeartSine SAM 500P Automated Defibrillator
- All-in-one Battery + Electrodes PAD-PAK for emergency use on Adults and children, with standby expiry warning indicator. (unlike other AEDs, the SAM 500P PAD-Pack has a combined useby covering both pads and battery so you aren't buying them separately more often).
- Industry leading 8 year warranty.
- High-tech strobe lit alarm guarded cabinet.
- Our unique easy step set-up and install guide and our unique easy step installation guide which also helps to embed first aid knowledge and better school community awareness of this vital piece of life-saving technology.
- Free replacement of the PAD-PAK or donation of a HeartSine AED if used in a Sudden Cardiac Arrest (SCA) rescue event where the victim does not survive or in the case of victim surviving, a  HeartSine AED will be donated free to an organisation of your choice on your behalf, even in the name of the survivor.
- Direct delivery to your door from the Australia-wide distributor under our low cost flat rate freight/handling charge to anywhere in Australia.
- Order the HeartSine SAM 500P AED with Cabinet here. Need more than one? No problem, just enter the required quantity.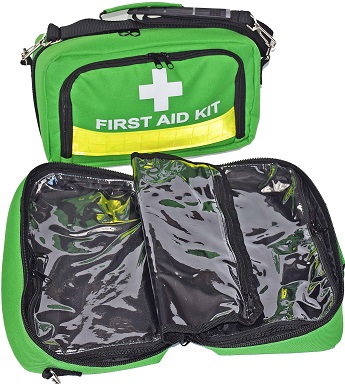 2. 40% OFF First Aid Cases / Shoulder Bag / Large Bum Bag - SUPPLIED EMPTY - NO CONTENTS - only $26.37
Our most versatile first aid bag, made to our exclusive design which has been a popular and proven choice for yard duty, out of hours care, excursions and camps, for schools who need a compact easy to carry kit with enough first aid item space for broad coverage for unexpected situations and special care needs. With plenty of see-through, well organised compartments, you can instantly see and access items based on category, order of need and/or named individuals. We're anticipating a lot of interest so get in quick before allocated promotional 40% off stock runs out.
- Order here 

FREE 

  Basic First Aid Notes - 2nd May 2022 UPDATE
T2 - 2 May 2022 Update includes all previous T1 2022 updates as follows, but also new direct first aid BASIC LIFE SUPPORT TRAINING links to Ella Tyler - Phone: 0417 878 447 Email: ellatyler@ozemail.com.au
- Recent change to CPR guidelines due to COVID pandemic:
Following statement added - "The risk of acquiring COVID-19 in the community is generally low, and is further lowered if the rescuer is fully vaccinated and wears a mask."
Return focus on breaths rather than compressions only, as data shows breaths are more effective if given.
- Changes to Bee, Wasp, Ant, Mosquito & Plant Stings or Tick Bite first aid, in particular new first aid responses to tick bites.
- Additional first aid response detail for drowning.
- Changes to first aid management of hypothermia and cold-related injuries.
First Aid references and further information:  ARC - Australian Resuscitation Council website.


Waddington Diagnostic Standard and Advanced Reading and Spelling Tests 1 & 2
In April 2022, via the Fiji Program Support Facility and the Ministry of Education, Heritage and the Arts (Suva, Fiji) all government schools across Fiji (736) became registered users of the Third Edition Reading and Spelling Tests and Mathematics Module Tests. 
Australia's most reliable reading and spelling tests for quickly and efficiently pin-pointing a student's critical reading and spelling age as well as diagnosing foundation skills and highlighting phases to be targeted for teaching and learning programs. Proven across three decades. There's no other classroom teacher-based testing device more efficient, or more detailed in diagnosis of reading and spelling, that can so easily be administered in under one hour.
This Third Edition is the current edition, with new advanced tests and update 1 back-up resource materials.
Given the massive disruption to student learning across Australia due to the pandemic, as evidenced by;
- national reports showing schools going backwards nationally, 
- students flat-lining and going backwards since 2011 
- the most recent reports showing the gap in results had widened over time between metropolitan, regional and remote students and high and low socio-educational groups, Waddington reliable classroom based testing is more important than ever before. Experienced teachers know how well they work without labelling children, ranking schools or leaving teachers in the lurch when difficult student cases emerge. 


Need help with Student Learning during Lockdowns / Isolation?
FREE 
 Base Words Level A 
A straight-forward, easy to implement spelling program containing 34 units of spelling work covering the first 400 commonly used words, in order of frequency. Uses an easy instruction format and incorporates low-level essential grammar tasks for key words and concepts covered. Not only is this resource currently free, the information page contains key planning tips for remote learning. There has never been a better time to make sure all students in need of spelling practise, know the first 400 commonly used words in the English language.

FREE 

 c21 Communication eBooks For all Australian states - fully editable with MS Word. This resource teaches students how to plan and use a diary, which they control and share with parents, whilst also documenting their own reading, tests, work examples and progress evidence through-out any given school year. 2022 UPDATES NOW AVAILABLE - FREE to all buyers of the Waddington Diagnostic Standard and Adsvanced Reading & Spelling Tests Third Edition (ONE teacher or SITE registration) - Download link is on page 128/130.

*** FACE MASKS - TGA Australia medical rated AMD/KN95 respirator masks and surgical type masks with Level 2 BFE 98% available. Please be aware that some masks appearing elsewhere may be non-TGA registered, "civilian grade" or not at, or exceeding, Level 1 / P2 with important medical class filter layering. See here a video showing different types of masks and their effectiveness. See here a video showing how far breathing and sneeze droplets travel through the air. We do not recommend home-made masks, scarves or anything else other than medical rated AMD/KN95 or best fitting surgical Level 2 type masks.
*** EYE SHIELDS - Pack of 5, lightweight, wide clear vision, discrete and closer fitting form compared to open face shields, to minimise splashes and air-borne particle transmission to the eyes.
BE COVID SAFE & STAY SAFE :
- Wash hands with soap and running water regularly.
- Don't touch your face outside of your safe isolation place unless you've washed them first. 
- Social distance more than 1.5m to 1 person only at a time.
- Apply hand sanitiser whenever entering a new place.
- Wipe over items entering your safe place of isolation, with disinfectant.
- Wear a face mask to protect yourself and others when outside your safe place of isolation.
          - Wash hands thoroughly before putting on a mask and again after taking it off.
          - Ensure it is put on right way around (usually coloured side outwards for single use masks).
          - Ensure the mask covers your nose and mouth and is snug without gaps (clean shaven face).
FIT-CHECK: Place one or two hands over the mask/cup (see here). Inhale and exhale sharply, checking for air leaks. Adjust until no air leaks can be felt. If Fit-Checking fails, consult a medical practitioner for a better mask via Fit-Testing.
          - Ensure there are no holes or tears in the mask.
          - Don't touch the outside of the mask or lower it, thereby breathing in infection covering its outer surface.
          - Don't use a damp, wet or dirty mask. Avoid using reusable, home-made style or masks without TGA listing.
          - If you wear glasses, reduce fogging by washing spectacles in soapy water, shake off excess water and allow to air dry or gently dry with a plain tissue.
- Increase ventilation by opening windows and reduce air recirculation. For air-conditioned spaces, air should be filtered via medical grade filters or sourced fresh externally and expelled outside via key windows.
CORONAVIRUS - COVID-19 - IMPORTANT GOVERNMENT INFORMATION
TGA info regarding COVID-19 and effective disinfectants such as benzalkonium chloride (Benzalkonium Chloride is a main ingredient in Hands First alcohol-free hand sanitiser).

Freight Charges
Flat rate base charge applied according to order value:
$0-$100.00 AU $14.95ex/$16.45incGST anywhere in Australia*
$100+ AU $19.95ex/$21.95incGST anywhere in Australia*
*If near/over 20kg (actual or cubic weight), more than one parcel required or for remote destinations, multiple base charges may apply.
Returning customers now log-in using their email address as their Username/ID (instead of old account number) and existing password. Account customers can change their login Username/ID and/or password to something else via the My Account menu link once logged in, at any time. Please contact us if you have trouble.
We've reduced a lot of prices by offering special tier website pricing and you can use the price selector (top left of page) to view with or without GST.

Our new loyalty rewards $$ program will directly reward you with points when ordering via our website which can be spent on anything you like.
Products are organised in categories and they can be searched, displayed, compared and sorted in useful ways. Like before, they'll first sort alphabetically, reflecting our easy product organisation and SKU codes, straight-forward brochures and kit content list labels for easy re-ordering.
To round-off your better shopping experience, we have one-page checkout, automated payment gateways with credit card and Paypal fees reduced, fee-free PayID and direct bank transfer options and all deliveries are tracked live via Australia Post's eParcel.

We hope you find the built-in social networking and reviews useful and would love to hear your feedback on any of the changes we have made.

2022 First Aid Kits
Small Kits
Small Essential Kit | Bum Bag Essential Kit | Small Travel / Work Kit
Workplace / Large Kits
Essential Work Kit | Comprehensive Work Kit | Large Workplace Education Kit | Home Off-Road / Work Kit 
Sports Kits
Small / Basic Sports Kit | Large Sports Kit
Kit Containers & Add-on Modules
Container Range | Add-On Modules

1920s Victor Harbor Beach House

An historically traditional group stay holiday home with absolute beach front access, facilities for the disabled and within easy walking distance to all major attractions at beautiful Victor Harbor, South Australia. Click here for more information. A great place to stay for student and adult groups. Book your next staff conference, student camp or family get-together via LJ Hooker Victor Harbor (08) 85521944  holiday.victorharbor@ljh.com.au or Unwind Holidays (08) 70994974 unwind@unwindholidays.com.au 


Are you being sampled for copyright? If so, remember to attribute ALL copying of our works under Statutory Licence, as per our Terms of Use, so we can continue to give you easy to copy resources which are not time limited or restricted to subscription! We depend on you!